If you're one of the many gamers who have been losing sleep over whether or not Sonic Generations will be a solid game, stop your worrying: It's looking good.
The 2nd demo for Sonic Generations was released yesterday for Xbox 360 and PlayStation 3 owners, and I, for one, am impressed. The demo included the 2D and 3D levels for Green Hill Zone, but with a new sparkle to it. Sonic Generations is already seeping with nostalgia for all the good ol' boys that played the original back in the day, but with enough polish to keep newcomers satisfied. It's easiest to analyze the demo in a list of pros and cons, so here we go!
2D
Pros:
Graphics – The game just looks great. Everything is vibrant, beautiful, and gleaming with that good Sega shine. There's an obviously renovated level design, but there's still that familiar feeling to the world that you just can't shake.
Controls – Simple. Just like they should be. All you'll be doing is jumping and spin dashing, and that is all you'll need to be doing. It works and feels just as well as it did in days of old and it feels good to know that they chose not to screw with what was already a great formula.
Music – The music stays the same as the original, giving off an even more nostalgic odor.
Cons:
Length – Even though it stays true to the original in its brief design, it just feels a little short. You beat the level in a minute and a half, which makes sense considering it's a Sonic game, but I just felt a longing for it to keep going. Shorter levels worked well for the old game, but gamers today are constantly demanding more bang for their buck. If all the 2D levels in Generations are this short, the game will have a serious issue on its hands.
3D
Pros:
Graphics – Everything looks just as incredible as the 2D level, but with a bit more attention to detail and more robustness in the scenery.
Controls – Modern Sonic still has the his fancy moves to show off, such as sliding, grinding, a homing attack, etc. But a new (and welcome) feature is the speed boost. This replaces the spin dash altogether, and it works beautifully. Essentially, if your speed gauge is built up enough (filled by killing enemies and collecting rings), you can press a button to blast ahead at break-neck speeds, destroying most everything in your path. It feels great, but not forced, which is good for those classic gamers who protest against new features.
Music – The music is a re-imagined version of the original Green Hill Zone song, but sounds just as great. It's exactly the kind of tune you'll love to be running at the speed of sound to.
Length – At roughly 3-3:30 minutes, the level feels perfect. I still wanted more, but I was satisfied with that run through of the zone.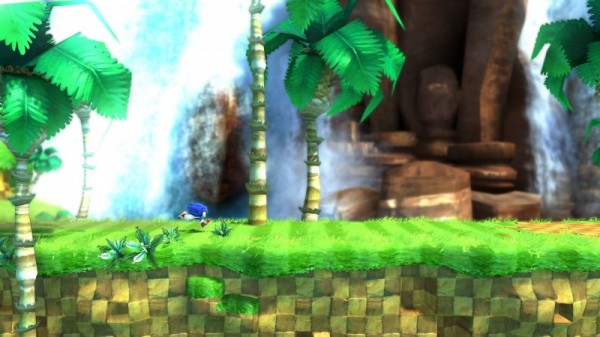 Cons:
Detail – An odd thing to complain about, but it felt like there was a significant amount of extra detail thrown into this level than the 2D one. They're still both great, but I just want the love distributed a little more evenly.
Overall, Sonic Generations is looking great and I can't wait for the game to drop November 1st in the US and November 4th in Europe.