Confession time I hated Street Fighter 4 on the PS3, I still do. I am not a great 2d fighter player and have never really enjoyed them. The PS3 version confirmed this after being beaten time and again I found my interest waning, the combat felt too stiff, the characters didn't move enough. I knew it wasn't a bad game, it had a fair amount of options and looked stunning but it wasn't for me that much was clear. So the questions are why did I bother with the 3ds version and was it any good?
The game is better that was my first opinion, it really was. On the easiest setting the game is that, very easy. The original Street Fighter 4 remained too hard for people like me and this does much to counter that with a much more forgiving enemy ability easing you into the game that certainly made me play longer.
Graphically the game is stunning, pushing the limits of the 3ds early on and keeping the excellent visuals that made the console version. It is excellent for showing off the console and clearly illustrates its superiority to the now 7-year-old DS. In a game that is literal two people fighting graphics like this are important, keeping the action clear and popping out in a way that suits the 3d effect. The 3d effect works subtly for the most part. With the traditional camera it raises the character out and adds a depth that is impressive and aids the experience without adding much to it. There is another camera angle, placed behind your fighter that really shows off the effect and looks impressive, but is too impractical for fighting on anything but the early difficulties, with the intricacies of combat hidden behind your character. The game can get chaotic but the frame rate never drops and remains fast paced, even more impressive from a launch title and unlike some of the others which suffer from major slow down.
A comparison with the console version (Left) showing just how close the game gets to its console brothers.
Gameplay wise this is very much a Street Fighter title. Hours can be spent mastering a character and learning all their moves and different styles. For some this will be heaven as they advance up the difficulty levels with hone specific character. These intricacies can be mastered easier thanks to a control option, which adds super moves to the touchscreen, simply a touch away not a complex button press. This can be turned off but is very useful for the more casual player and helps get into the game. This is the most important aspect of the game and for those who love street fighter this is the best handheld version available. It captures the feel of the game remarkably well and this is crucial to enjoying the game as I recognised things from the PS3 version clearly in this and it has survived the transition to handhelds better than most games, never feeling like a cheap port. For those like me who find the combat too stiff this will still be an issue and certainly dampened my enjoyment of the title. It controls very well with the 3ds tactile buttons providing a good level of control that couldn't really be beaten without the use of a joystick, something that would make it slightly less portable.
There is a decent selection of unlockables though these are unlikely to cause excitement being mainly stickers and decorations, but for those that like collecting this is a treasure trove. The character roster is impressive, featuring all those that featured in the home consoles giving a good choice and range with all of them varying and learning them all could easily take months. The modes that are present are very traditional and perhaps disappointing with arcade, training and challenge modes keeping single players busy. There is no real story mode though considering the low-level of quality most fighters have this is no great loss and the small amount in arcade mode is enough to convince me it hasn't been missed. For those who want to fight others there is a huge area with a verses, 3d versus and online mode that allows for fights all over the globe and really helps give the game longevity.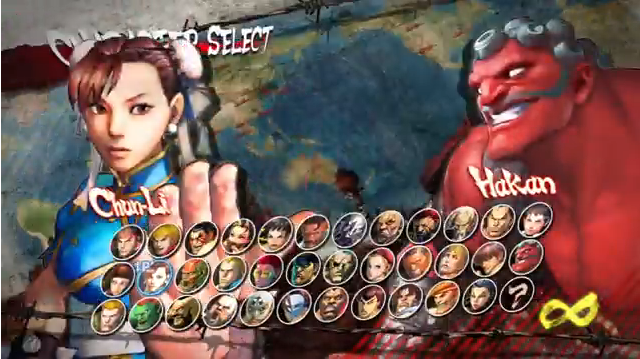 The impressive roster in its full glory
The game can last a lifetime to those who really get into it. There is a figurine mode, with the figurines able to be swapped using spot pass, though finding another 3ds user doing this is always going to be a problem. Online can last forever and is genuinely impressive, with the 3ds superior wi-fi preventing much lag, an absolutely vital feature in a fighter and competition can be fairly fierce, with experts frequently beating me in my time online. However I found myself soon growing bored with the game and it is not one to play for a long time in one sitting. This is very different from Dead or Alive dimensions which had much more for a single player who cannot devote masses of time to learning everything and was certainly superior in this field.
Overall it is a decent game and as a 2d fighter is among the best ever released. It can be dull and does not quite have enough substance or modes to be wholeheartedly recommended but for those who love serious 2d fighters this is an easy choice and unlikely to be beaten on the 3ds in a very long time. For those looking for a more casual experience Dead or Alive is probably a better bet, with the 3ds small catalogue it is simply nice to have the choice!
7.0/10